Wisconsin Avenue GUTS Route
The Wisconsin Avenue GUTS route connects the Main Campus with university offices on Wisconsin Avenue and the Georgetown Safeway. The shuttle runs Monday through Friday and stops at 3300 Whitehaven Street, 2115 Wisconsin Avenue, and 2233 Wisconsin Avenue.
The schedule, effective Monday, March 18, 2019, is listed below. Please note that the new route departs from its new longterm location at the intersection of 37th Street and Winfield Lane.
Announcements
GUTS announces its Safe and Healthy Rider program.
Effective Tuesday, May 26, 2022, the Wisconsin Avenue route will run every 20 minutes, from 7:00 am to 7:00 pm. See the amended schedule below.
Beginning Monday, May 18, 2020, masks or facecoverings will be required to ride on GUTS shuttles.
Map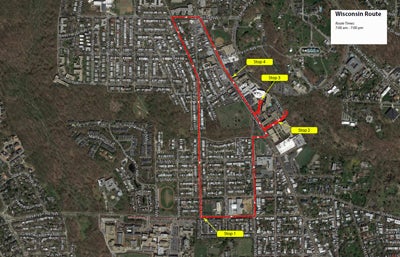 Time tables
Weekday Service

New Schedule Effective Tuesday, May 26, 2020

Departs 3300 Whitehaven
(Harris Building)
Arrives 2115 Wisconsin
Departs 2233 Wisconsin

Arrives 37th Street and Winfield Lane

7:00 AM
7:05 AM
7:07 AM
7:12 AM
7:20 AM
7:25 AM
7:27 AM
7:32 AM
7:40 AM
7:45 AM
7:47 AM
7:52 AM
8:00 AM
8:05 AM
8:07 AM
8:12 AM
8:20 AM
8:25 AM
8:27 AM
8:32 AM
8:40 AM
8:45 AM
8:47 AM
8:52 AM
9:00 AM
9:05 AM
9:07 AM
9:12 AM
9:20 AM
9:25 AM
9:27 AM
9:32 AM
9:40 AM
9:45 AM
9:47 AM
9:52 AM
10:00 AM
10:05 AM
10:07 AM
10:12 AM
10:20 AM
10:25 AM
10:27 AM
10:32 AM
10:40 AM
10:45AM
10:47 AM
10:52 AM
11:00 AM
11:05 AM
11:07 AM
11:12 AM
11:20 AM
11:25 AM
11:27 AM
11:32 AM
11:40 AM
11:45 AM
11:47 AM
11:52 AM
12:00 PM
12:05 PM
12:07 PM
12:12 PM
12:20 PM
12:25 PM
12:27 PM
12:32 PM
12:40 PM
12:45 PM
12:47 PM
12:52 PM
1:00 PM
1:05 PM
1:07 PM
1:12 PM
1:20 PM
1:25 PM
1:27 PM
1:32 PM
1:40 PM
1:45 PM
1:47 PM
1:52 PM
2:00 PM
2:05 PM
2:07 PM
2:12 PM
2:20 PM
2:25 PM
2:27 PM
2:32 PM
2:40 PM
2:45 PM
2:47 PM
2:52 PM
3:00 PM
3:05 PM
3:07 PM
3:12 PM
3:20 PM
3:25 PM
3:27 PM
3:32 PM
3:40 PM
3:45 PM
3:47 PM
3:52 PM
4:00 PM
4:05 PM
4:07 PM
4:12 PM
4:20 PM
4:25 PM
4:27 PM
4:32 PM
4:40 PM
4:45 PM
4:47 PM
4:52 PM
5:00 PM
5:05 PM
5:07 PM
5:12 PM
5:20 PM
5:25 PM
5:27 PM
5:32 PM
5:40 PM
5:45 PM
5:47 PM
5:52 PM
6:00 PM
6:05 PM
6:07 PM
6:12 PM
6:20 PM
6:25 PM
6:27 PM
6:32 PM
6:40 PM
6:45 PM
6:47 PM
6:52 PM
7:00 PM
7:05 PM
7:07 PM
7:12 PM