Dupont Circle GUTS Route
The Dupont Circle GUTS routes connects the Main Campus with the Dupont Circle Metro Station on the Red Line. The bus runs Monday-Friday from 6:00am to 10:40pm. The Dupont Circle stop is located at 20th Street and Massachusetts Avenue, NW.
Announcements
GUTS announces its Safe and Healthy Rider program.
Beginning Monday, May 18, 2020, masks or facecoverings will be required to ride on GUTS shuttles.
Map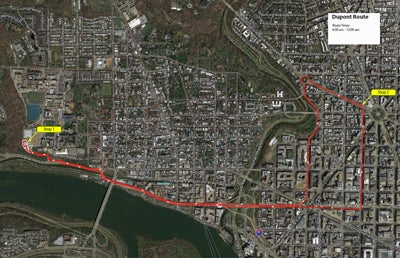 Time tables
---
| | |
| --- | --- |
| Depart Bus Turn Around (see stop C) | Depart Dupont |
| 6:00 AM | 6:15 AM |
| 6:10 AM | 6:25 AM |
| 6:20 AM | 6:35 AM |
| 6:30 AM | 6:45 AM |
| 6:40 AM | 6:55 AM |
| 6:50 AM | 7:05 AM |
| 7:00AM | 7:20 AM |
| 7:10 AM | 7:25 AM |
| 7:20 AM | 7:35 AM |
| 7:30 AM | 7:45 AM |
| 7:40 AM | 7:55 AM |
| 7:50 AM | 8:05 AM |
| 8:00 AM | 8:15 AM |
| 8:10 AM | 8:20 AM |
| 8:20 AM | 8:35 AM |
| 8:30 AM | 8:45 AM |
| 8:40 AM | 9:00 AM |
| 8:50 AM | 9:05 AM |
| 9:00 AM | 9:15 AM |
| 9:10 AM | 9:25 AM |
| 9:20 AM | 9:30 AM |
| 9:30 AM | 9:40 AM |
| 9:40 AM | 10:00 AM |
| 9:50 AM | 10:00 AM |
| 10:00 AM | 10:15 AM |
| 10:30 AM | 10:45 AM |
| 11:00AM | 11:15 AM |
| 11:30 AM | 11:45 AM |
| 12:00 PM | 12:15 PM |
| 12:30 PM | 12:45 PM |
| 1:00 PM | 1:15 PM |
| 1:30 PM | 1:45 PM |
| 2:00 PM | 2:15 PM |
| 2:30 PM | 2:45 PM |
| 3:00 PM | 3:15 PM |
| 3:10 PM | 3:25 PM |
| 3:20 PM | 3:35 PM |
| 3:30 PM | 3:45 PM |
| 3:40 PM | 3:55 PM |
| 3:50 PM | 4:05 PM |
| 4:00 PM | 4:20 PM |
| 4:10 PM | 4:25 PM |
| 4:20 PM | 4:35 PM |
| 4:30 PM | 4:45 PM |
| 4:40 PM | 4:55 PM |
| 4:50 PM | 5:05 PM |
| 5:00 PM | 5:15 PM |
| 5:10PM | 5:20 PM |
| 5:20 PM | 5:35 PM |
| 5:30 PM | 5:45 PM |
| 5:40 PM | 5:55 PM |
| 5:50 PM | 6:05 PM |
| 6:00 PM | 6:15 PM |
| 6:10 PM | 6:25 PM |
| 6:20 PM | 6:40 PM |
| 6:30 PM | 6:50 PM |
| 6:40 PM | 7:00 PM |
| 7:00 PM | 7:15 PM |
| 7:30 PM | 7:45 PM |
| 8:00 PM | 8:15 PM |
| 8:30 PM | 8:45 PM |
| | |
| | |
| | |
| | |