Dupont Circle GUTS Route
The Dupont Circle GUTS routes connects the Main Campus with the Dupont Circle Metro Station on the Red Line. The bus runs Monday-Friday from 6:00am to 12:00am and. The Dupont Circle stop is located at 20th Street and Massachusetts Avenue, NW.
Announcements
Due to continuous construction on Massachusetts Avenue the pick up/drop off location has been temporarily relocated to 20th and P Streets. 
Masks or facecoverings are required to ride on GUTS shuttles.
Map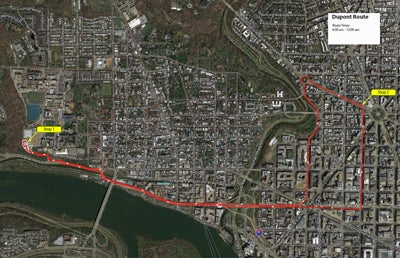 Time tables

---
Weekday Service

Full schedule resumes on Monday, August 2, 2021

Depart Bus Turnaround
(see Stop C)

Depart Dupont (20th & P Streets)

6:00 AM
6:20 AM
6:10 AM
6:30 AM
6:20 AM
6:40 AM
6:30 AM
6:50 AM
6:40 AM
7:00 AM
6:50 AM
7:10 AM
7:00AM
7:20 AM
7:10 AM
7:30 AM
7:20 AM
7:40AM
7:30 AM
7:50 AM
7:40 AM
8:00 AM
7:50 AM
8:10 AM
8:00 AM
8:20 AM
8:10 AM
8:30 AM
8:20 AM
8:40 AM
8:30 AM
8:50 AM
8:40 AM
9:00 AM
8:50 AM
9:10 AM
9:00 AM
9:20 AM
9:10 AM
9:30 AM
9:20 AM
9:40 AM
9:30 AM
9:50 AM
9:40 AM
10:00 AM
9:50 AM
10:10 AM
10:00 AM
10:20 AM
10:20 AM
10:40 AM
10:40 AM
11:00 AM
11:00 AM
11:20 AM
11:20 AM
11:40 AM
11:40 AM
12:00 PM
12:00 PM
12:20 PM
12:20 PM
12:40 PM
12:40 PM
1:00 PM
1:00 PM
1:20 PM
1:20 PM
1:40 PM
1:40 PM
2:00 PM
2:00 PM
2:20 PM
2:20 PM
2:40 PM
2:40 PM
3:00 PM
3:00 PM
3:20 PM
3:10 PM
3:30 PM
3:20 PM
3:40 PM
3:30 PM
3:50 PM
3:40 PM
4:00 PM
3:50 PM
4:10 PM
4:00 PM
4:20 PM
4:10 PM
4:30 PM
4:20 PM
4:40 PM
4:30 PM
4:50 PM
4:40 PM
5:00 PM
4:50 PM
5:10 PM
5:00 PM
5:20 PM
5:10PM
5:30 PM
5:20 PM
5:40 PM
5:30 PM
5:50 PM
5:40 PM
6:00 PM
5:50 PM
6:10 PM
6:00 PM
6:20 PM
6:10 PM
6:30 PM
6:20 PM
6:40 PM
6:30 PM
6:50 PM
6:40 PM
7:00 PM
6:50 PM
7:10 PM
7:00 PM
7:20 PM
7:20 PM
7:40 PM
7:40 PM
8:00 PM
8:00 PM
8:20 PM
8:20 PM
8:40 PM
8:40 PM
9:00 PM
9:00 PM
9:20 PM
9:20 PM
9:40 PM
9:40 PM
10:00 PM
10:00 PM
10:20 PM
10:20 PM
10:40 PM
10:40 PM
11:00 PM
11:15 PM
11:30 PM
11:45 PM
12:00 AM