Dupont Circle GUTS Route
The Dupont Circle GUTS routes connects the Main Campus with the Dupont Circle Metro Station on the Red Line. The bus runs Monday-Friday from 6:00am to 12:00am. The Dupont Circle stop is located at 20th Street and Massachusetts Avenue, NW.
Announcements
3/11/23 – Shuttles are running behind schedule due M Street being backed up and the Key Bridge being closed. A shuttle will service your location as soon as possible.
From the weekend of February 25-26 to May 6-7, 2023, there will be weekend Dupont Circle Shuttle and Rosslyn Shuttle service on Saturdays and Sundays from 12 p.m. – 12 a.m. The Shuttle will run on a loop, alternating between the Bus Turnaround to Rosslyn and the Bus Turnaround to Dupont Circle stop. You can track the status of the GUTS bus via NextGUTS (new window).
Effective December 20, 2022 the Dupont Circle shuttle will relocate from 20th and P Streets, NW back to the original stop at 20th and Massachusetts Avenue, NW.
Masks or facecoverings are required to ride on GUTS shuttles.
Map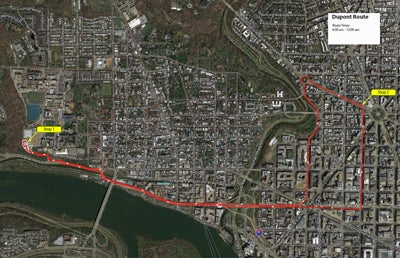 Time tables

---
Weekday Service
Weekend shuttle service on Saturday and Sunday connecting Georgetown University and Dupont Circle
Depart Bus Turnaround
(see Stop C)
Depart Dupont (20th & Massachusetts Avenue, NW)
6:00 AM
6:20 AM
6:10 AM
6:30 AM
6:20 AM
6:40 AM
6:30 AM
6:50 AM
6:40 AM
7:00 AM
6:50 AM
7:10 AM
7:00AM
7:20 AM
7:10 AM
7:30 AM
7:20 AM
7:40AM
7:30 AM
7:50 AM
7:40 AM
8:00 AM
7:50 AM
8:10 AM
8:00 AM
8:20 AM
8:10 AM
8:30 AM
8:20 AM
8:40 AM
8:30 AM
8:50 AM
8:40 AM
9:00 AM
8:50 AM
9:10 AM
9:00 AM
9:20 AM
9:10 AM
9:30 AM
9:20 AM
9:40 AM
9:30 AM
9:50 AM
9:40 AM
10:00 AM
9:50 AM
10:10 AM
10:00 AM
10:20 AM
10:20 AM
10:40 AM
10:40 AM
11:00 AM
11:00 AM
11:20 AM
11:20 AM
11:40 AM
11:40 AM
12:00 PM
12:00 PM
12:20 PM
12:20 PM
12:40 PM
12:40 PM
1:00 PM
1:00 PM
1:20 PM
1:20 PM
1:40 PM
1:40 PM
2:00 PM
2:00 PM
2:20 PM
2:20 PM
2:40 PM
2:40 PM
3:00 PM
3:00 PM
3:20 PM
3:10 PM
3:30 PM
3:20 PM
3:40 PM
3:30 PM
3:50 PM
3:40 PM
4:00 PM
3:50 PM
4:10 PM
4:00 PM
4:20 PM
4:10 PM
4:30 PM
4:20 PM
4:40 PM
4:30 PM
4:50 PM
4:40 PM
5:00 PM
4:50 PM
5:10 PM
5:00 PM
5:20 PM
5:10PM
5:30 PM
5:20 PM
5:40 PM
5:30 PM
5:50 PM
5:40 PM
6:00 PM
5:50 PM
6:10 PM
6:00 PM
6:20 PM
6:10 PM
6:30 PM
6:20 PM
6:40 PM
6:30 PM
6:50 PM
6:40 PM
7:00 PM
6:50 PM
7:10 PM
7:00 PM
7:20 PM
7:20 PM
7:40 PM
7:40 PM
8:00 PM
8:00 PM
8:20 PM
8:20 PM
8:40 PM
8:40 PM
9:00 PM
9:00 PM
9:20 PM
9:20 PM
9:40 PM
9:40 PM
10:00 PM
10:00 PM
10:20 PM
10:20 PM
10:40 PM
10:40 PM
11:00 PM
11:15 PM
11:30 PM
11:45 PM
12:00 AM
---
Saturday/Sunday Service
Weekend shuttle service on Saturday and Sunday connecting Georgetown University and Dupont Circle
Bus Turnaround (see Stop C)
to Dupont Circle
(20th & Massachusetts Avenue, NW)
Dupont Circle to Bus Turnaround
Arrive
Bus Turnaround
12:35 PM
12:55 PM
1:15 PM
1:55 PM
2:15 PM
2:35 PM
3:15 PM
3:35 PM
3:55 PM
4:35 PM
4:55 PM
5:15 PM
5:55 PM
6:15 PM
6:35 PM
7:15 PM
7:35 PM
7:55 PM
8:35 PM
8:55 PM
9:15 PM
9:55 PM
10:15 PM
10:35 PM
11:15 PM
11:35 PM
11:55 PM