Rosslyn GUTS Route
The Rosslyn GUTS route connects the Main Campus with the Rosslyn Metro Station on the Blue, Orange, and Silver Lines. The route runs runs Monday-Friday from 4:45am to 11:00 pm.
The Rosslyn stop is located at 19th Street and North Moore Street. To reach the metro station, walk one block straight on North Moore Street.
Announcements
GUTS will run on a modified holiday schedule on Friday, June 18, 2021.
Beginning Monday, November 16, 2020, the Rosslyn and Dupont routes midday service will be adjusted. Beginning at 10am, the buses will run hourly through 3pm, at which time regular service will resume. Please refer to the GUTS schedules for bus times outside of these hours.
Effective Monday, August 17, 2020 the last Rosslyn and Dupont GUTS routes will depart the Bus Turnaround at 10:40 pm to coincide with Metrorail's 11:00 pm closing time.
GUTS announces its Safe and Healthy Rider program.
Beginning Monday, May 18, 2020, masks or facecoverings will be required to ride on GUTS shuttles.
Map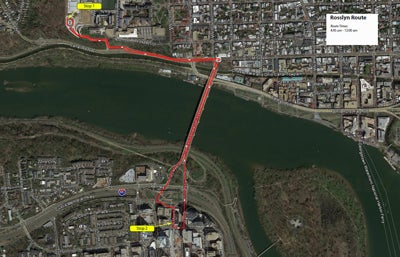 Time tables
| Depart Bus Turnaround (see stop B) | Depart Rosslyn |
| --- | --- |
| 4:45 AM | 5:00 AM |
| 5:05 AM | 5:15 AM |
| 5:20 AM | 5:30 AM |
| 5:35 AM | 5:45 AM |
| 5:50 AM | 6:05 AM |
| 6:00 AM | 6:20AM |
| 6:10 AM | 6:30 AM |
| 6:20 AM | 6:35 AM |
| 6:30 AM | 6:50 AM |
| 6:40 AM | 7:00 AM |
| 6:50 AM | 7:05 AM |
| 7:00 AM | 7:20 AM |
| 7:10 AM | 7:30 AM |
| 7:20 AM | 7:40 AM |
| 7:30 AM | 7:50 AM |
| 7:40 AM | 8:00 AM |
| 7:50 AM | 8:10 AM |
| 8:00 AM | 8:20 AM |
| 8:10 AM | 8:30 AM |
| 8:20 AM | 8:40 AM |
| 8:30 AM | 8:50 AM |
| 8:40 AM | 9:00 AM |
| 8:50 AM | 9:10 AM |
| 9:00 AM | 9:20 AM |
| 9:10 AM | 9:30 AM |
| 9:20 AM | 9:40 AM |
| 9:30AM | 9:50 AM |
| 9:40 AM | 10:00 AM |
| 9:50 AM | 10:05 AM |
| 10:00 AM | 10:15 AM |
| 11:00 AM | 11:15 AM |
| 12:00 PM | 12:15 PM |
| 1:00 PM | 1:15 PM |
| 2:00 PM | 2:15 PM |
| 3:00 PM | 3:15PM |
| 3:10 PM | 3:30 PM |
| 3:20 PM | 3:40 PM |
| 3:30 PM | 3:50 PM |
| 3:40 PM | 4:00 PM |
| 3:50 PM | 4:05 PM |
| 4:00 PM | 4:20 PM |
| 4:10 PM | 4:30 PM |
| 4:20 PM | 4:40 PM |
| 4:30 PM | 4:50 PM |
| 4:40 PM | 5:00 PM |
| 4:50 PM | 5:05 PM |
| 5:00 PM | 5:20 PM |
| 5:10 PM | 5:30 PM |
| 5:20 PM | 5:40 PM |
| 5:30 PM | 5:50 PM |
| 5:40 PM | 6:00 PM |
| 5:50 PM | 6:05 PM |
| 6:00 PM | 6:20 PM |
| 6:10 PM | 6:30 PM |
| 6:20 PM | 6:40 PM |
| 6:30 PM | 6:50 PM |
| 6:40 PM | 7:00 PM |
| 7:00 PM | 7:20 PM |
| 7:20 PM | 7:40 PM |
| 7:40 PM | 8:00 PM |
| 8:00 PM | 8:20 PM |
| 8:20 PM | 8:40 PM |
| 8:40 PM | 9:00 PM |
| 9:00 PM | 9:20 PM |
| 9:20 PM | 9:40 PM |
| 9:40 PM | 10:00 PM |
| 10:00 PM | 10:20 PM |
| 10:20 PM | 10:40 PM |
| 10:40 PM | 11:00 PM |