Rosslyn GUTS Route
The Rosslyn GUTS route connects the Main Campus with the Rosslyn Metro Station on the Blue, Orange, and Silver Lines. The route runs runs Monday-Friday from 4:45am to 12:00am.
The Rosslyn stop is located at 19th Street and North Moore Street. To reach the metro station, walk one block straight on North Moore Street.
Announcements
Masks or facecoverings are required to ride on GUTS shuttles.
Map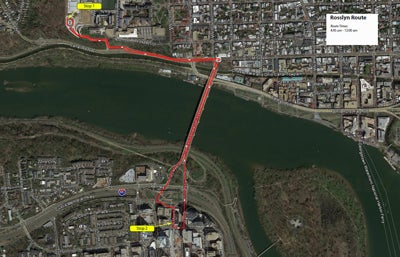 Time tables
Weekday Service

Full schedule resumes on Monday, August 2, 2021

Depart Bus Turnaround
(see Stop B)

Depart Rosslyn
(19th & Moore Streets)

4:45 AM
5:00 AM
5:05 AM
5:15 AM
5:20 AM
5:30 AM
5:35 AM
5:45 AM
5:50 AM
6:05 AM
6:00 AM
6:20AM
6:10 AM
6:30 AM
6:20 AM
6:40 AM
6:30 AM
6:50 AM
6:40 AM
7:00 AM
6:50 AM
7:10 AM
7:00 AM
7:20 AM
7:10 AM
7:30 AM
7:20 AM
7:40 AM
7:30 AM
7:50 AM
7:40 AM
8:00 AM
7:50 AM
8:10 AM
8:00 AM
8:20 AM
8:10 AM
8:30 AM
8:20 AM
8:40 AM
8:30 AM
8:50 AM
8:40 AM
9:00 AM
8:50 AM
9:10 AM
9:00 AM
9:20 AM
9:10 AM
9:30 AM
9:20 AM
9:40 AM
9:30AM
9:50 AM
9:40 AM
10:00 AM
9:50 AM
10:10 AM
10:00 AM
10:20 AM
10:20 AM
10:40 AM
10:40 AM
11:00 AM
11:00 AM
11:20 AM
11:20 AM
11:40 AM
11:40 AM
12:00 PM
12:00 PM
12:20 PM
12:20 PM
12:40 PM
12:40 PM
1:00 PM
1:00 PM
1:20 PM
1:20 PM
1:40 PM
1:40 PM
2:00 PM
2:00 PM
2:20 PM
2:20 PM
2:40 PM
2:40 PM
3:00 PM
3:00 PM
3:20 PM
3:10 PM
3:30 PM
3:20 PM
3:40 PM
3:30 PM
3:50 PM
3:40 PM
4:00 PM
3:50 PM
4:10 PM
4:00 PM
4:20 PM
4:10 PM
4:30 PM
4:20 PM
4:40 PM
4:30 PM
4:50 PM
4:40 PM
5:00 PM
4:50 PM
5:10 PM
5:00 PM
5:20 PM
5:10 PM
5:30 PM
5:20 PM
5:40 PM
5:30 PM
5:50 PM
5:40 PM
6:00 PM
5:50 PM
6:10 PM
6:00 PM
6:20 PM
6:10 PM
6:30 PM
6:20 PM
6:40 PM
6:30 PM
6:50 PM
6:40 PM
7:00 PM
6:50 PM
7:10 PM
7:00 PM
7:20 PM
7:20 PM
7:40 PM
7:40 PM
8:00 PM
8:00 PM
8:20 PM
8:20 PM
8:40 PM
8:40 PM
9:00 PM
9:10 PM
9:20 PM
9:20 PM
9:40 PM
9:40 PM
10:00 PM
10:00 PM
10:20 PM
10:20 PM
10:40 PM
10:40 PM
11:00 PM
11:15 PM
11:30 PM
11:45 PM
12:00 AM