WMATA "Better Bus" Plan Feedback
Overview
The Washington Metropolitan Area Transportation Authority (WMATA) recently released its "Better Bus Visionary Network" proposal for changes to existing Metrobus lines. These changes include removing existing Metrobus service to the front gates at 3700 O St. NW via the G2 bus. The public can provide comments on the proposed bus routes via an interactive map until June 17.
Provide Your Feedback
We encourage all community members who are concerned about accessible public transit access to the Main and Medical Center campuses to submit a comment on the G2 route and other routes of interest by June 17. For example, if you wish to express any concerns about the elimination of the 3700 O St. NW stop of the G2 you could "place" your comment directly at that location by:
At the top of the Comment on Your Route page, select the G2 line.
In the "Add Comment box" on the right side of the page, click the "I dislike" button and place your comment near the front gates.
In the "New Comment" pop-up window, type why WMATA should not remove this current stop.
Click the "Submit" button.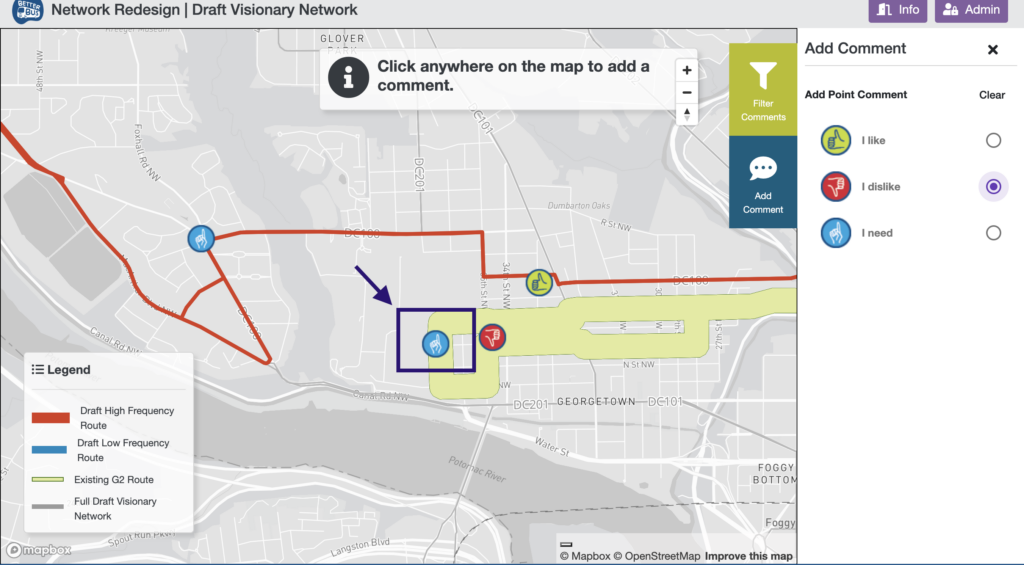 University Engagement
The university's Office of Government Relations & Community Engagement has actively been working with the community and local stakeholders on facilitating feedback to WMATA. Actions have included:
Please contact Heidi Tseu, Associate Vice President for Local Government and Community Engagement, at htg7@georgetown.edu with any questions.