Downtown Campus Shuttle
(640 Massachusetts Avenue and 55 H Street)
Announcements
Updated March 29th: Starting March 22nd and ending April 21st there will be an express shuttle that leaves the bus turn around at 11:00 pm and drops off at the Law Center and ends at 55 H Street.
3/11/23 – Shuttles are running behind schedule due M Street being backed up and the Key Bridge being closed. A shuttle will service your location as soon as possible.
Beginning Sunday, February 26, the Downtown Campus Shuttle will include Sunday service following current Saturday service hours.
Saturday service to 55 H Street only will begin running on Saturday, September 10, 2022.
The Downtown Campus Shuttle ( 55 H Street and 640 Massachusetts Avenue) starts Monday, August 15th and operates Monday through Friday.
Masks or face coverings are required to ride on GUTS shuttles.
Law Center students going to main campus can take the Downtown shuttle from 55 H Street during the week and on Saturdays.
Map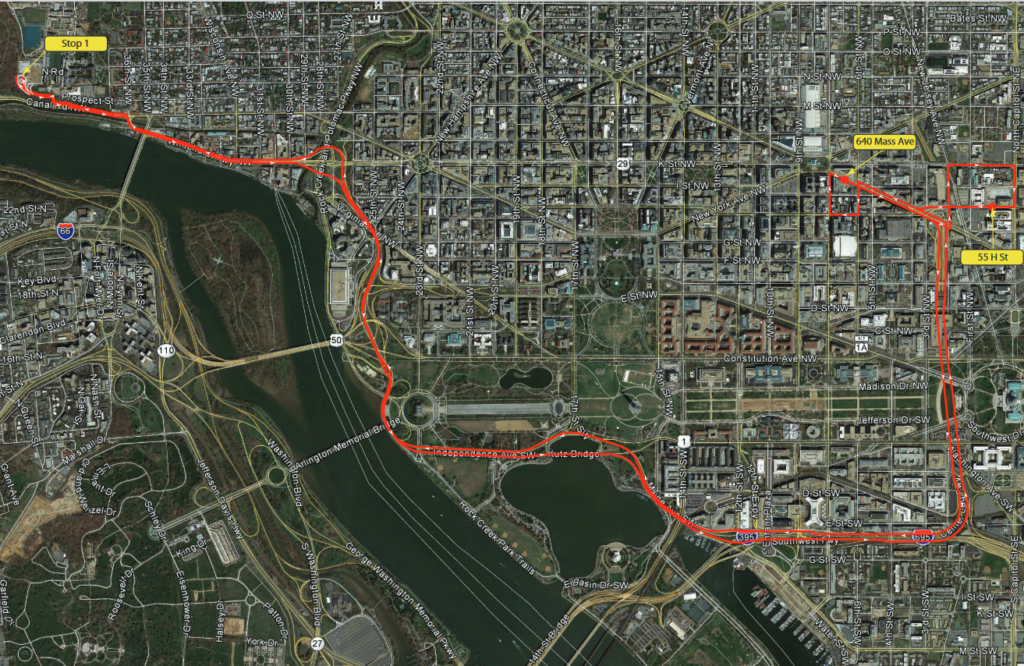 Weekday Time Table – effective Thursday, September 22, 2022
Downtown campus shuttle timetable (weekday) showing stops at Hilltop Campus Bus Turnaround, 640 Massachusetts Avenue and 55 H Street
Departs Bus Turnaround
Arrives 640 Massachusetts Avenue
Arrives / Departs 55 H Street
Arrives 640 Massachusetts Avenue
Arrives Bus Turnaround
6:30 AM
–
7:05 AM
–
7:40 AM
7:00 AM
–
7:30 AM
–
8:00 AM
7:30 AM
_
8:00 AM
–
8:30 AM
8:00 AM
8:20 AM
8:30 AM
8:40 AM
9:00 AM
8:30 AM
8:50 AM
9:00 AM
9:10 AM
9:30 AM
9:00 AM
9:25 AM
9:30 AM
9:40 AM
10:00 AM
9:30 AM
9:55 AM
10:00 AM
10:10 AM
10:30 AM
10:00 AM
10:20 AM
10:30 AM
10:40 AM
11:00 AM
10:30 AM
10:50 AM
11:00 AM
11:10 AM
11:30 AM
11:00 AM
11:20 AM
11:30 AM
11:40 AM
12:00 PM
11:30 AM
11:50 AM
12:00 PM
12:10 PM
12:30 PM
12:00 PM
12:25 PM
12:30 PM
12:40 PM
1:00 PM
12:30 PM
12:55 PM
1:00 PM
1:10 PM
1:30 PM
1:00 PM
1:20 PM
1:30 PM
1:40 PM
2:00 PM
1:30 PM
1:50 PM
2:00 PM
2:10PM
2:30 PM
2:00 PM
2:25 PM
2:30 PM
2:40 PM
3:00 PM
2:30 PM
2:55 PM
3:00 PM
3:10 PM
3:30 PM
3:00 PM
3:25 PM
3:30 PM
3:40 PM
4:00 PM
3:30 PM
3:55 PM
4:00 PM
4:10 PM
4:30 PM
4:00 PM
4:25 PM
4:30 PM
4:40 PM
5:00 PM
4:30 PM
4:55 PM
5:00 PM
5:10 PM
5:30 PM
5:00 PM
5:25 PM
5:30 PM
5:40 PM
6:00 PM
5:30 PM
5:55 PM
6:00 PM
6:10 PM
6:30 PM
6:00 PM
6:25 PM
6:30 PM
6:40 PM
7:00 PM
6:30 PM
6:55 PM
7:00 PM
7:10 PM
7:30 PM
7:00 PM
7:25 PM
7:30 PM
7:40 PM
8:00 PM
7:30 PM
7:55 PM
8:00 PM
8:10 PM
8:30 PM
8:00 PM
8:25 PM
8:30 PM
8:40 PM
9:00 AM
8:30 PM
8:55 PM
9:00 PM
9:10 PM
9:30 PM
9:00 PM
9:20 PM
9:30 PM
–
10:00 PM
9:30 PM
9:50 PM
10:00 PM
–
10:30 PM
10:15 PM
10:45 PM
10:55 PM
–
11:30 PM
Express
GULC
2nd Street
11:00 PM
11:20 PM
11:30 PM
–
–
Weekend Time Table – effective Saturday, September 10, 2022
Downtown campus shuttle timetable (weekend) showing stops at Hilltop Campus Bus Turnaround, and 55 H Street
Departs Bus
TurnAround
Arrives / Departs
55 H Street
GULC
2nd Street
Arrives
55 H St.
Arrives Bus Turnaround
7:05 AM
7:30 AM
7:55 AM
8:30 AM
8:55 AM
9:20 AM
10:00 AM
10:25 AM
10:55 AM
11:15 AM
11:40 AM
12:05 PM
12:10 PM
12:35 PM
1:00 PM
1:30 PM
1:55 PM
2:20 PM
2:45 PM
3:10 PM
3:35 PM
3:45 PM
4:10 PM
4:35 PM
4:45 PM
5:10 PM
5:35 PM
5:45 PM
6:10 PM
6:35 PM
7:00 PM
7:25 PM
7:55 PM
8:15 PM
8:40 PM
9:05 PM
9:30 PM
9:55 PM
10:20 PM
Express
11:00 PM
11:20 PM
11:30 PM