Georgetown Transportation Survey 2017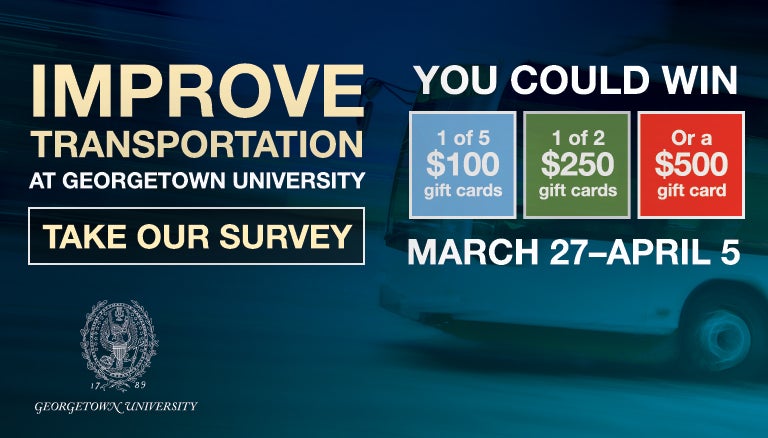 Today, Georgetown University is launching its annual transportation survey to gather data from faculty, staff, students, neighbors, and visitors about how they travel to and from campus. The survey is live and all members of the Georgetown Community are encouraged to participate at www.GUCommuteSurvey.com. Cash prizes are available to all survey participants, including $100, $250, and $500 drawings!
Guided by academic leadership and an emerging vision for the future of the university, Georgetown is engaged in a comprehensive master planning process to ensure the university has physical spaces that support future academic programs and a vibrant living and learning community on the Main Campus. Georgetown deeply values its historic Main Campus and through master planning is maximizing the use of existing buildings, addressing deferred maintenance needs, and developing new spaces on campus. The participation of the entire Georgetown community – students, faculty, staff, alumni, and neighbors – is essential to achieving our shared vision.
What is master planning?
Master planning is a collaborative process that requires the participation of our entire community — faculty, staff, students, alumni, and neighbors. Understanding priorities for academic programs, student life, transportation to and from campus, and the state of our current infrastructure will help shape plans for the future of our campus.
Why is this survey important for you?
The results of the survey will help the university develop a Transportation Demand Management (TDM) comprehensive plan for the campus and is a key piece of our master planning process. A TDM is a package of strategies that seek to encourage alternative transportation and reduce congestion. TDM strategies can also improve air quality, influence more sustainable travel behavior, and improve transportation modes. Successful TDM programs require a clear understanding of travel behavior to develop the strategies that will best achieve those goals.