Law Center GUTS Route
The Law Center GUTS route connects the Main Campus with the Georgetown University Law Center campus. The route runs Monday-Friday from 7:55am to to 10:10 during the academic year, and until 6:08 pm during the summer months.
The Law Center stop is on 2nd Street, NW behind McDonough Hall.
---
Announcements
The Law Center shuttle academic year schedule goes into effect on Monday, August 31st. Note that the 9:35 pm shuttle does not run on Fridays from Main Campus and therefore is no 10:10pm departure from the Law Center. 
Maps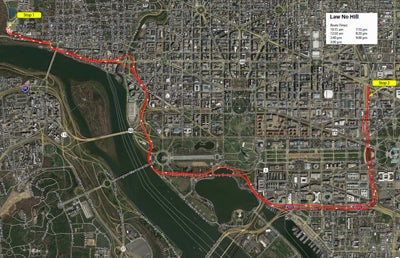 Time tables
* Please note that the 9:35 pm shuttle does not run on Fridays from Main Campus and therefore is no 10:10pm departure from the Law Center.

| Depart Bus Turnaround (see Stop A) | Depart Law Center |
| --- | --- |
| 7:55 AM | 8:30 AM |
| 9:05 AM | 9:40 AM |
| 10:15 AM | 11:05 AM |
| 11:40 AM | 12:15 PM |
| 12:50 PM | 1:25 PM |
| 2:00 PM | 2:35 PM |
| 3:00 PM | 3:35 PM |
| | 5:35 PM |
| 6:08 PM | 6:35 PM |
| 7:10 PM | 8:00 PM |
| 8:20 PM | 9:05 PM |
| 9:35 PM* | 10:10 PM* |