Driving and Parking
Georgetown University offers a limited amount of parking for visitors and employees. The university strongly discourages visitors and employees from parking on the street and encourages alternate forms of travel.
Click here for detailed directions to Georgetown from various points in the region, including all three major airports.
This page includes information for visitors and members of the Georgetown University community about driving and parking on campus.
Campus Parking Lots
The Georgetown University Office of Transportation Management oversees all campus roadways and the following parking lots:
Southwest Garage (Use 3611 Canal Road as the address for directions using GPS). This is the garage for university visitors.
Leavey Center Garage, Levels P-2 and P-3
Garage 4, located under the Hariri Building
Lot 6, located behind Poulton Hall (37th & P Street)
Lot 9, located adjacent to Lauinger Library (37th & Prospect Street)
Lot Y, adjacent to Yates Field House
Lot WM, adjacent to Wisemiller's (36th Street between N Street and Prospect Street)
Lot E, in front of the Med-Dent Building
Medstar Georgetown University Hospital administers these other parking lots on campus. For more information on these facilities please call (202) 444-3802.
Hospital Garage 1
Hospital Garage 2
Leavey Center P-1 and part of P-2
Visitor Parking Information
Campus visitors can enter the garage from Canal Road and pull a ticket from the gate dispenser to enter the garage. Upon exiting, visitors can pay by credit card at the exit gate or bring the ticket to the Pay Station on the ground floor lobby of Kennedy Hall to pay with cash or credit card.
Once parked in the Southwest Garage, visitors can take the Mini Shuttle from the bus turn around to Yates Field House and the Leavey Conference Center.
University Address
Visitors should use 3611 Canal Road NW as the address when mapping directions using GPS. Click here for detailed driving directions to campus.
Visitor Parking Rates
Monday-Saturday Rates
Daily Parking Rate: $25
Daily Parking (after 3 p.m.): $15
Daily Parking (after 7 p.m.): $10
Students with a GU ID, after 4:30pm (MON-FRI only): $5
All daily passes expire 12:01 am the following day except on University holidays.
Disability Visitor Parking
Visitors with valid handicap permits may park in designated parking spaces in the Southwest Garage and pay the posted rate upon exit.
Yates Field House Parking
Yates members are allowed to park for free in Southwest Garage before 9 a.m. and after 4 p.m. Monday through Friday with a valid Yates parking pass. Parking between 9 a.m. and 4 p.m. is permitted for a fee of $5/hour with a maximum of two hours per visit. Student and Faculty/Staff who are members must comply with University parking policies; Yates cannot distribute parking passes to these members.
Faculty and Staff Parking Information
Note: Employees can sign up for either parking or Smart Benefits, but not both.
Currently, the only parking available to new parkers is off-campus. The locations are 2115 Wisconsin Avenue, NW, Washington, DC 20007 or 1911 Ft. Myer Drive, Arlington, VA 22209. Please email otm@georgetown.edu (new window) or call 202-687-4372 to sign up for an off campus spot or to be added to the waitlist for on-campus parking.
Rates effective beginning July 1, 2023
Monthly rates for parking are salary based and as follows:
Those paid monthly, divide the annual rate by 12.
Those paid biweekly, divide the annual rate by 26.
Parking Categories
Full-Time
Annual Rate
Part-Time 2-Day
Annual Rate
Part-Time 3-Day
Annual Rate
Band 1: up to $74,999
$1,944
$972
$1,176
Band 2: $75k – $124,999
$2,004
$1,008
$1,212
Band 3: $125k – $299,999
$2,328
$1,164
$1,404
Band 4: $300k and up
$2,640
$1,320
$1,584
Part-time rates will continue to be available in FY24 on specified dates. If you are unable to maintain a set schedule each week, contact OTM to update your elections to full-time.
Additional parking options and fees include:
Carpool: All carpool participants will be charged equally.

2 Person Carpool: $63/parker/month or $29.08/parker/biweekly
3 Person Carpool: $42/parker/month or $19.38/parker/biweekly
4 Person Carpool: $32/parker/month or $14.77/parker/biweekly

Evenings (2pm-12am) : $124 monthly/$57.23 biweekly
Nights (10:30pm-8:00am) : $46 monthly/ $21.23 biweekly
Motorcycle: $26 monthly/ $12 biweekly
Satellite Lots: Parking rates for satellite lots will be the same as Main campus rates.
Visitors: Hourly and daily parking rates will remain the same for the upcoming fiscal year. Parking on Main Campus will continue to be free on Sundays and University Holidays. During all other times, visitors may park in the Southwest Garage at the rates below:

Hourly Parking Rate: $5
Daily Parking Rate before 3 p.m.: $25
Daily Parking between 3 – 7 p.m.: $15
Daily Parking after 7 p.m.: $10
All students after 4:30 p.m. with GU ID (Monday-Friday only): $5
Department visitor parking requests
This document provides steps departments should follow to request visitor parking (new window).
Complete this form with the full cost center number and associated work tags, including gift or grant tags. If possible, please submit your request 24-48 hours in advance to ensure it gets to the parking attendant in time. Attach a separate sheet to include all visitor names if necessary.
Law Center Parkers
Law Center faculty and staff who have a valid GULC parking permit may park in the Southwest Garage free of charge when visiting the Main Campus.
Parking Permits
Hangtag permits are issued and renewed annually by OTM. All Georgetown employees must pay for parking through payroll deduction. The permit should be placed on the rear view mirror, on the driver's side dashboard, or the inside the driver's side rear window.
For permit holders with two registered vehicles, only one vehicle may be brought on campus at any time. On occasions when both cars must be on campus simultaneously, one car must pay the hourly or daily parking fee. If a second car is found to be on campus unauthorized, the car will be cited and booted. Multiple infractions may result in withdrawal of parking privileges on campus.
OTM will post instructions when the online registration renewal process opens.
Replacement Permits
If your car is sold, traded, or wrecked, please notify OTM and provide updated vehicle information. Parking permits are not transferrable from one vehicle to a new vehicle.
If you lose a permit, there is a replacement fee of $100. If the permit has been stolen, you should file a report with the Georgetown University Police Department or the police district in which the crime took place. The $100 fee will be waived if you provide a copy of the incident report to OTM.
Waitlists for On-Campus Parking Lots
Individuals who have an on-campus parking permit who wish to switch their lot assignment or individuals currently parking at one of the satellite lots who want to move to an on-campus lot may be added to the waitlist by contacting the OTM office at 202-687-4372 or by emailing otm@georgetown.edu (new window). These lists are reviewed regularly, but it is not possible to predict when a space will become available in the requested lot or garage.
Key Cards / Digital Transmitters / RFIDS
Key cards, digital transmitters and RFIDS are issued by OTM. Individuals who park in Lot 6 receive key cards those that park in Lot 9 are issued digital transmitters and Southwest Garage parkers are issued RFIDS. Lost or stolen key cards, digital transmitters and RFIDS will be deactivated and replaced for a non-refundable fee of $35. Lot E, Leavey P2/P3, and Garage 4 may access these parking locations using their GOCard.
Carpool Parking
The University strongly encourages Georgetown faculty and staff to form carpools, which save money, reduce pollution and congestion, and reduce stress. University parkers who form carpools are will be given priority if spaces are available and receive significant discounts on parking rates. All members of the carpool must be Georgetown faculty or staff and current parkers to receive this benefit.
Motorcycle Parking
Individuals who ride motorcycles to work will be guaranteed an on-campus parking space in designated motorcycle parking areas. A decal will be issued for motorcycles, but the decal is not transferrable to an automobile. Motorcycles may not park in spaces designed for full-sized vehicles or in bicycle parking areas.
Disability Parking
Faculty and staff with a valid annual decal and state-issued disability permit who require disability parking spaces may request assignment in a specific parking lot by contacting OTM. To request any other accommodation, please contact the Office of Institutional Equity, Diversity and Affirmative Action.
Abandoned Vehicles
The District government or any towing company at the direction of the Department shall remove a motor vehicle parked, left, or stored, on private property in violation of § 50-2421.03(2) or (3), as follows:
(1) A vehicle parked, left, or stored without the consent of the property owner shall be removed immediately after a notice of infraction is issued and conspicuously placed on the vehicle.
Cancellation Policy
The OTM cancellation policy allows for paid parking agreements to be cancelled at any time by contacting the Office of Transportation Management (OTM). OTM will require you to return your parking tag as well as the RFID if you were issued one. If you desire parking in the future, you will be required to contact OTM to be placed on the wait list to receive parking as it becomes available.
Electric Vehicle (EV) Charging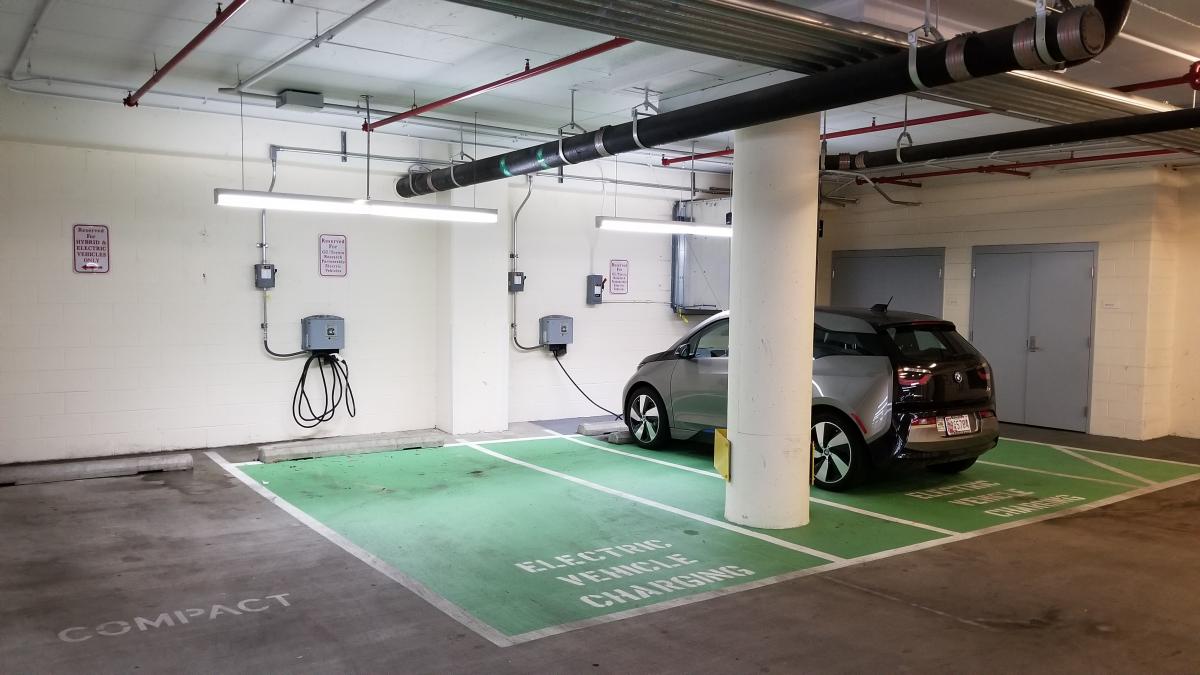 EV charging is available on a first-come-first-served basis in the Southwest Parking Garage and Garage 4 (under Hariri). There are four Level 2 EV chargers on the P3 level of the SW Garage, and two Level 2 EV chargers on the P2 level of Garage 4. The chargers are currently free to use by employees and visitors who are authorized to park in these garages. The spaces are reserved for active EV charging only, so we ask users to be considerate of other EV drivers and move their cars to a different parking spot once charging is complete.
Student Parking
Georgetown University does not provide on-campus parking for undergraduate students. With very few exceptions, undergraduate students are prohibited from parking motor vehicles on campus and/or on residential streets in Georgetown, Burleith, and Foxhall. Students are also not allowed to park vehicles at 55 H Street. This is a violation of the Code of Student Conduct.
Students with disabilities who require parking can contact the Academic Resource Center to make alternative arrangements.
A limited number of spaces are available for commuter students at a satellite lot in Rosslyn, VA. Assignment will be decided by lottery at the beginning of the fall semester. Students residing in the District of Columbia or in Virginia in zip codes 22201, 22203 (east of Glebe Road), 22207 (east of Glebe Road-Lorcum Lane-Military Road boundary), 22209, 22210, and 22216 are not eligible for a parking permit. Students can submit a parking request through an online form. Residents at 55 H St. can submit a request for parking at 111 Mass. Ave through this form.
Current University students (with valid ID), including evening and continuing education students, and students attending local colleges and universities that are members of the Consortium of Universities, may park in Southwest Garage after 4:30 p.m. for a fee of $5.00.
Campus Traffic Rules and Regulations
The following is an abbreviated version of the Georgetown University Traffic Rules and Regulations. Further questions may be directed to the Office of Transportation Management at otm@georgetown.edu or 202-687-4372.
Georgetown University's parking regulations are enforced by OTM personnel and the Georgetown University Police Department (GUPD). These individuals have the authority to cite, tow and/or immobilize vehicles that are in violation of traffic or parking regulations on University property.
Parking permits and keycards issued to users of the parking system remain the property of Georgetown University. The University reserves the right to:
Refuse to issue a parking permit
Revoke or recall a permit
Change parking assignments if necessary
Restrict the use of any parking space, garage or surface lot at any time
Determine hours of control
Change any or all of its parking regulations at any time
Anyone parking a motor vehicle in a GU lot or garage must display the appropriate permit for that lot or parking area. Any vehicle parked without displaying a valid permit is subject to ticketing, towing and/or mobilization. Permit holders who do not find space available in their designated parking area should notify OTM. OTM will arrange to temporarily park the vehicle in an alternate location.
In addition, parking in the following areas is prohibited. Violators will be cited and/or towed.
Designated loading docks
Fire lanes
Crosswalks
Building entrances
Sidewalks
It is the driver's responsibility to find a legal, marked parking space and to park the entire vehicle within the space boundary lines.
If a vehicle experiences a mechanical failure, it is the driver's responsibility to notify the Office of Transportation Management and have the vehicle removed as soon as possible. Vehicles left unattended in unauthorized parking areas may be towed off the campus by an independent towing service, and all fees for such towing will be the responsibility of the driver/registered owner. If the problem involves a flat tire or battery failure, the driver can take advantage of the University's free Motorist Assistance Program.
Parking lots and garages may not be used for vehicle storage. If any vehicle is found to be unattended for a period greater than 36 hours, the vehicle may be towed off campus by an independent towing service, and all fees for such towing will be the responsibility of the driver/registered owner.
The applicable traffic laws of the District of Columbia (Code 40-812A) govern Georgetown University. These laws, and the laws of the state of vehicle registration, apply to all movement of a motor vehicle on the campus of Georgetown University. The following general traffic regulations apply for the Georgetown University campus:
The speed limit on University streets is 15 miles per hour
The speed limit inside or on University parking facilities is 10 miles per hour
Except for designated University vehicles, motor vehicles may only be driven on roadways, and must observe all applicable statues and ordinances of the District of Columbia and the rules and regulations specific to the University. Emergency vehicles may operate on any surface area required when responding to an emergency.
Moving or driving around University parking/traffic control devices is strictly prohibited and may constitute a violation of District law as well as these University regulations.
Parking Citations
All appeals for citations that begin with GU02 or GU03 should be emailed to otm@georgetown.edu. You will receive a response within three business days. No citation appeals will be accepted in person.
For all citations that begin with GU04 or GU05 please contact GUPD at 202-687-4343.
Citations issued by OTM or GUPD must be paid within 10 days of issue. Citations can be paid online or by mail or in person at the Office of Transportation Management, Mezzanine Level, Kennedy Hall, Box 1108, Georgetown University, Washington, DC 20057-1108. Payment may be made using cash, check, Visa or Mastercard.
Citations unpaid after 30 days from the date of issue will be forwarded to the University's ticket control agent, Data Ticket Corporation, for processing. Citation information forwarded to Data Ticket is subject to additional late fees assessed by Data Ticket acting as the University's agent in the collection of outstanding citations due the University. The right to appeal is waived after failure to pay or request an appeal within 10 days from the date of issuance and applies for outstanding citation information submitted to Data Ticket.
People wishing to appeal a citation should submit a written explanation which includes their name, mailing address, copy of the citation, along with payment to OTM. Once reviewed, a written response will be sent along with a refund, if appropriate.
Motorist Assistance
Motorist assistance provides emergency vehicle service to those in need and is available from 6 a.m. to 10 p.m. Monday through Friday (except university holidays) in the Main Campus parking areas. This includes battery jump-starts, flat tire assistance, key retrieval from locked cars and related assistance. There is no charge for these services; however, you must sign a service request form that releases the university from liability.